DCR PRO CONCRETE RESURFACING – The Best Pebble Paving In Sydney
Pebble Stone Paving is a beautiful highly desirable, decorative surface layer solution to your damaged, uneven, old concrete with its flexible, strong, long-lasting, and very low maintenance benefits.
Pebble Stone Paving is a flexible, durable, and innovative product that is environmentally conscious and uses locally sourced materials in addition to being eco-friendly. Stone paving is a custom product allowing us to become creative with the colours and designs to suit each individual property. We are an approved installer for our supplier and have trained with the best.
With the luxury of a product range with over 30 natural stone colours plus custom combinations to choose from we can mix and match for your driveway, outdoor entertaining, pool surroundings playgrounds, pathways, and tree surroundings to your custom colour needs.
By reusing your existing surface you save time, money and waste. Even cracked damaged surfaces can be overlaid with our flexible resin-bound stone with no loose stone or delaminating.
We install over existing hard surfaces by applying 12-16mm stone mixed with especially industrial Polyurethane that can handle heavy traffic. As part of the preparation we will chase out enough depth so the Pebble StonePaving will eventually meet flush with existing surfaces like your garage slab, pathway, and gutter edge. The Stone Paving will then meet the edge of the existing hard surface (for example your gutter level) perfectly, providing a seamless tie in.
How long will it last?
Stone Paving comes with a 10 year no loose stone guarantee; however, the resin technology is designed to last in excess of 25 years. PourOn (our DIY product) comes with no guarantee; however, has a design life of
5–10 years.
Can I drive on Stone Paving?
Yes. Stone Paving can be designed to take heavy traffic, including buses and trucks.
Is it easy to clean?
Yes. Stone Paving is very low maintenance and easy to look after. It can be cleaned simply with detergent,
a brush or pressure washer.
Will it stay this shiny?
Out of the two layers present, the top layer of the resin, usually withers leaving an astounding natural tone of either the aggregate or the recycled glass.
That is unless you want a gloss coat, which we can apply during the install or at a later date to give the "gloss look"
What is Stone Paving?
Stone Paving is an innovative paving system that provides a more sustainable paving solution in two amazing ways:
1) Overlay surface dressing, our super strong, flexible resin coats a range of beautiful aggregate which is then applied as a new surface layer to many types of existing hard surfaces, from concrete to existing pavers. Perfect to cover tired, old, even cracked surfaces while eliminating excavation costs, saving time and money.
2) Porous Paving, Stone paving provides a hard yet porous surface, the binder locks the stone together while leaving voids between the stone particles. These voids allow the water to soak through creating a 100% porous surface with no gaps for weeds or to create trip hazards. Porous paving has many benefits including reducing surface runoff, improving the health of surrounding trees, and increasing your soft too hard landscaping ratio.
We strive to be in constant communication with our customers until the job is done. To get a free quote, or if you have questions or special requests, just drop us a line. We look forward to serving you!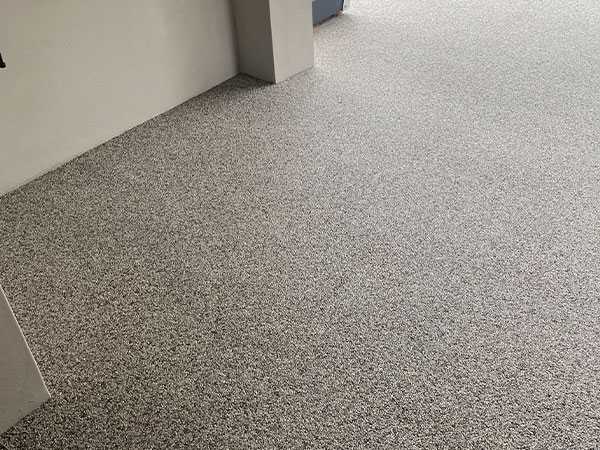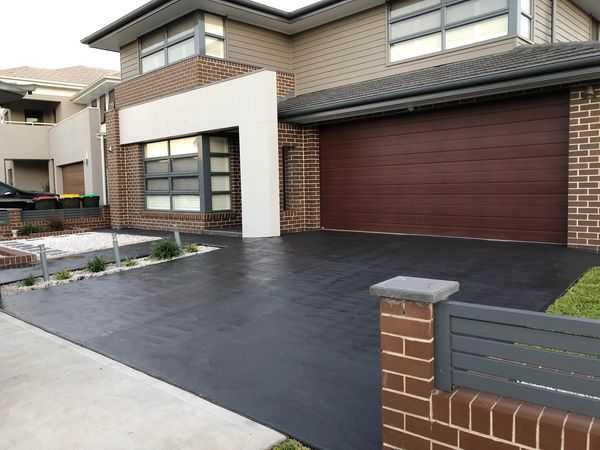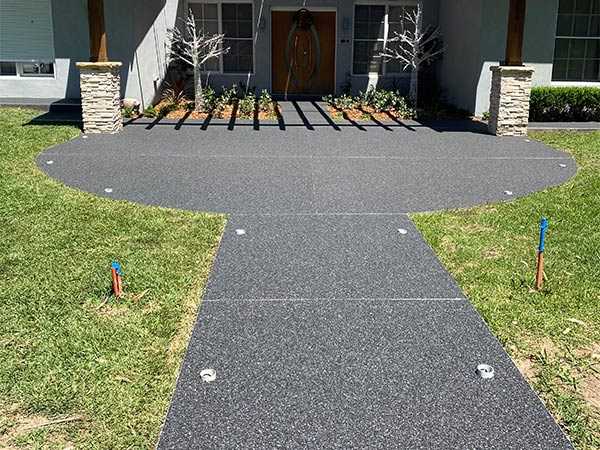 Find the best and most desirable pebble paving resurfacing
At DCR Pro Concrete Resurfacing we offer our clients the best and most desirable solutions for resurfacing a wide range of areas. This includes the likes of:
driveways
garages
pool decks
patios
We can resurface various kinds of surfaces such as:
concrete
pavers
bricks
flagstones
tiles
Most important of all, we handle various jobs like pebble paving resurfacing with complete professionalism. Therefore, our work lasts forever and is always beautiful.
The difference that we can make with our work
We know the quality we provide cannot be matched by others. In the area, we are the only ones that can offer such high-quality pebble stone concrete overlay and other related work.
One of the major reasons for this is the proprietary mixtures and formulae that we use for our work. Polyurethane plays a major role in this context. We would completely refurbish the outdoors of our clients, and we would not take more than 2 days to do such stupendous work. As soon as we are done with pebblestone concrete resurfacing, it is ready for the very next day itself. Our finished products are porous, so there is no question of any puddles after we finish the pebbled concrete resurfacing work.
How can we help our clients?
Sometimes your pebblestone concrete driveway, patio, or pool becomes outdated, ugly, and discoloured too. One of the major reasons for such an ungainly appearance is the many stains they have. No matter how hard they try, our clients cannot remove them at all. Quite often contractors also use inferior concrete to increase their margins and that means the surfaces do not stay in top condition for a long time.
This is where we can help you significantly with our pebble stone concrete overlay and epoxy work.
We offer the best service in the region
When it comes to pebble concrete resurfacing and pebble paving epoxy, we can assure you that we offer them the best service. No other company in the region can match the quality of our services. We also offer our clients the best and boldest finishes. Apart from resurfacing exterior living areas, we can work on the interior living areas too. Therefore, people always call us for pebble stone concrete overlay and other similar works.
We are the top professionals in the industry
We offer a unique and detailed service to our clients in Western Sydney and Illawarra. We install and supply ground covering that is completely permeable. We are the best name for concrete resurfacing in the region. Here you will find a wide variety of products to choose from so we can create durable surfaces with an attractive finish. With our pebble stone concrete resurfacing work, we make sure that the floors can be used for various applications. The quality of our work can be gauged from the fact that we are always working on several projects.
How to install pebbles?
The process of pebble concrete resurfacing requires several steps.
First, one has to clean the concrete. However, this is only necessary in case one wants to break the monotony that may come with having a uniform layer of pebbles on a concrete surface.
The next step is to prepare all the edges with aluminum creating new expansion joins and sleek finishes.
Following this, we spread the mix, a process known as the pebble bond system, using a trowel. When they are done doing all this the resultant surface has to be given at least 24 hours for it to dry.
Can you pebblestone concrete over existing concrete?
Yes, we can perform pebblestone concrete resurfacing with ease. This is because this is what we do for a living – we are specialists in such work. There are several reasons one may require the services of a company like us. Maybe the surface has become dirty and old, which is why it looks tired and jaded. Mould and moss also get stuck in the pebbles and make them look ugly. People also call us when the surface stains easily, and when the stains are difficult to dispose of. Another sign of the problem with these surfaces is that they pick up oil stains and rusty stains.
How long does it last?
One of the biggest benefits of getting pebblestone concrete resurfacing and pebble paving epoxy done from us is that we use the best products with the latest bonding properties. This means that it would last for quite some time. We also do our work well, so the surface in question could last anywhere between 8 and 15 years. A lot in this case also depends on how well our clients maintain the surface.
How long does pebblestone take to install?
It takes around 2-3 days for pebble paving to be installed on a surface. We also offer multi-phase jobs in case our clients have any special needs or if they need to have a bigger area.
Is pebblestone slippery?
No, pebble stone paving is not slippery at all. These surfaces are anti-skid ones.
How thick is the pebblestone installed?
At the time when it is being installed, pebble stone paving has a thickness of around 14-16mm thick. However, if the areas are low-lying ones, we may have to use extra materials.