DCR PRO CONCRETE RESURFACING – The Best Pebble Paving In Sydney
Pebble Stone Paving is a beautiful highly desirable, decorative surface layer solution to your damaged, uneven, old concrete with its flexible, strong, long-lasting, and very low maintenance benefits.
Pebble Stone Paving is a flexible, durable, and innovative product that is environmentally conscious and uses locally sourced materials in addition to being eco-friendly. Stone paving is a custom product allowing us to become creative with the colours and designs to suit each individual property. We are an approved installer for our supplier and have trained with the best.
With the luxury of a product range with over 30 natural stone colours plus custom combinations to choose from we can mix and match for your driveway, outdoor entertaining, pool surroundings playgrounds, pathways, and tree surroundings to your custom colour needs.
By reusing your existing surface you save time, money and waste. Even cracked damaged surfaces can be overlaid with our flexible resin-bound stone with no loose stone or delaminating.
We install over existing hard surfaces by applying 12-16mm stone mixed with especially industrial Polyurethane that can handle heavy traffic. As part of the preparation we will chase out enough depth so the Pebble StonePaving will eventually meet flush with existing surfaces like your garage slab, pathway, and gutter edge. The Stone Paving will then meet the edge of the existing hard surface (for example your gutter level) perfectly, providing a seamless tie in.
How long will it last?
Stone Paving comes with a 10 year no loose stone guarantee; however, the resin technology is designed to last in excess of 25 years. PourOn (our DIY product) comes with no guarantee; however, has a design life of
5–10 years.
Can I drive on Stone Paving?
Yes. Stone Paving can be designed to take heavy traffic, including buses and trucks.
Is it easy to clean?
Yes. Stone Paving is very low maintenance and easy to look after. It can be cleaned simply with detergent,
a brush or pressure washer.
Will it stay this shiny?
Out of the two layers present, the top layer of the resin, usually withers leaving an astounding natural tone of either the aggregate or the recycled glass.
That is unless you want a gloss coat, which we can apply during the install or at a later date to give the "gloss look"
What is Stone Paving?
Stone Paving is an innovative paving system that provides a more sustainable paving solution in two amazing ways:
1) Overlay surface dressing, our super strong, flexible resin coats a range of beautiful aggregate which is then applied as a new surface layer to many types of existing hard surfaces, from concrete to existing pavers. Perfect to cover tired, old, even cracked surfaces while eliminating excavation costs, saving time and money.
2) Porous Paving, Stone paving provides a hard yet porous surface, the binder locks the stone together while leaving voids between the stone particles. These voids allow the water to soak through creating a 100% porous surface with no gaps for weeds or to create trip hazards. Porous paving has many benefits including reducing surface runoff, improving the health of surrounding trees, and increasing your soft too hard landscaping ratio.
We strive to be in constant communication with our customers until the job is done. To get a free quote, or if you have questions or special requests, just drop us a line. We look forward to serving you!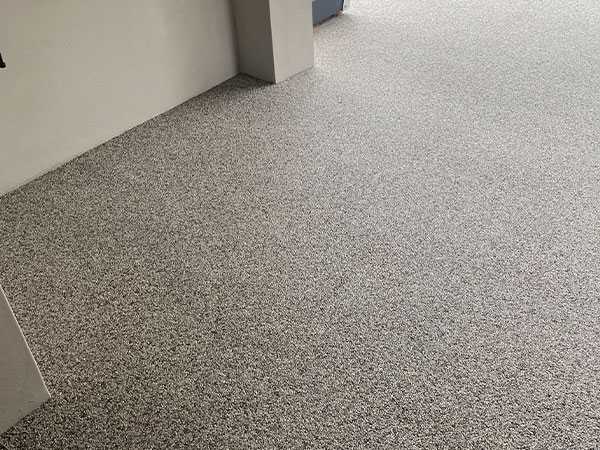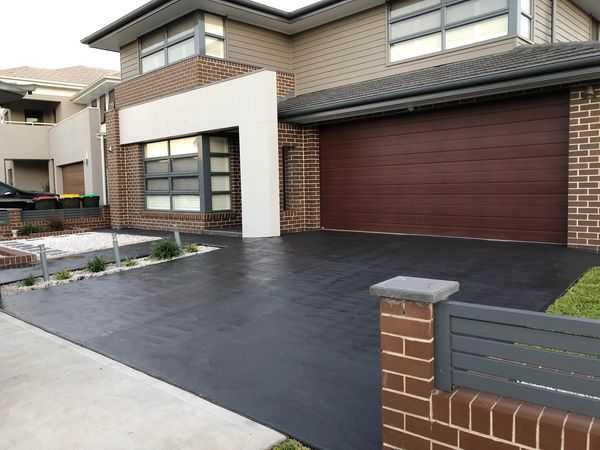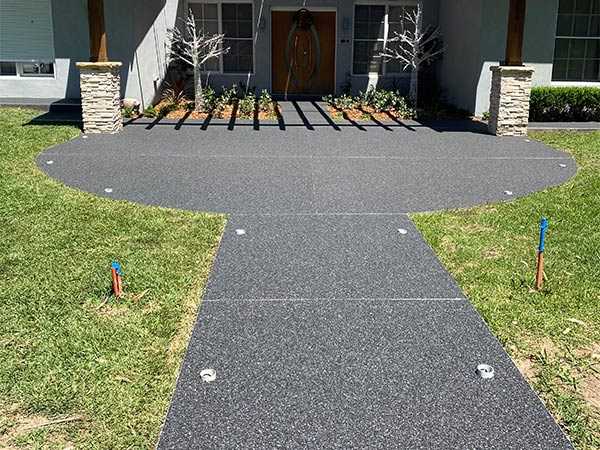 Pebble Stone Overlay Resurfacing & Epoxy Paving
Concrete Resurfacing Service From DCR PRO CONCRETE RESURFACING – The Best Way To Transform Your Existing Concrete Surfaces. Concrete is a highly durable substance that can easily withstand foot traffic, different types of weather, extreme heat like fire, and automotive traffic. But it is not a miracle material that will stand up to every type of wear and tear indefinitely. Therefore, a concrete floor will start to deteriorate over time without proper care, and cracks start to form. As a result, the concrete surface starts showing stains. When these things happen, the concrete surface doesn't look good anymore and, in these cases, only the concrete resurfacing service offered by DCR PRO CONCRETE RESURFACING Sydney can help. Concrete resurfacing is a budget-friendly method of converting the outworn and tired slab or path. DCR PRO CONCRETE RESURFACING has years of experience in rejuvenating concrete surfaces for different industrial, commercial, and residential applications.