Best Slip Resistant Products For Outdoor Concrete Surfaces
Best Slip Resistant Products For Outdoor Concrete Surfaces
Our Specialised Resurfacing System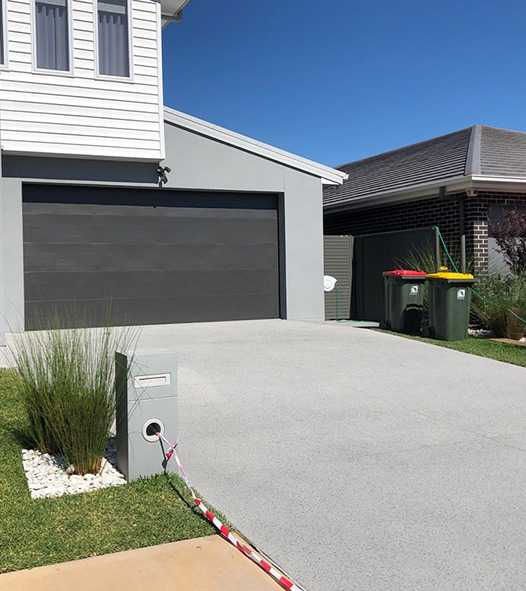 Complete Concrete Resurfacing Solutions
The Best Way To Transform Your Existing Concrete Surfaces
Concrete is a highly durable substance that can easily withstand foot traffic, difference in weather, extreme heat like fire, and automotive traffic. But it is not a miracle material that will stand up to every type of wear and tear indefinitely. Therefore, a concrete floor will start to deteriorate over time without proper care, and cracks start to form. As a result, the concrete surface starts showing stains. When these things happen, the concrete surface doesn't look good anymore and, in these cases, only the concrete resurfacing service offered by DCR PRO CONCRETE RESURFACING Sydney can help.
We Pay Close Attention to Detail
Outdoor retreats are the perfect way to create an extension of your alfresco living area, creating ambience and a relaxed atmosphere.
We can help you achieve your outdoor space with products that are durable, low maintenance & on-trend.
Personalised Colours & Custom Designs Available
We don't like to admit it, but first impressions do count. Custom designed can ensure your driveway, entranceway and landscape design get your neighbours talking - in a good way!

can be used on any surface or location.

far less expensive than stone or tile products.

only a sweep, hose & seal required!

the products used in concrete are in abundance, and you only mix what you need so there's no wastage.

creates the same look as an expensive tile or stone
We strive to be in constant communication with our customers until the job is done. To get a free quote, or if you have any questions or special requests, just drop us a message. We look forward to serving you!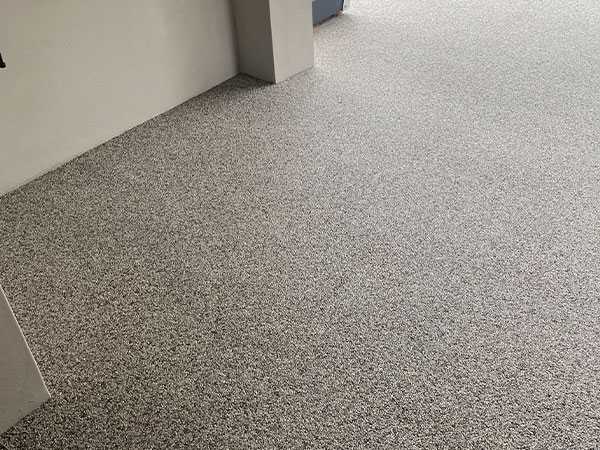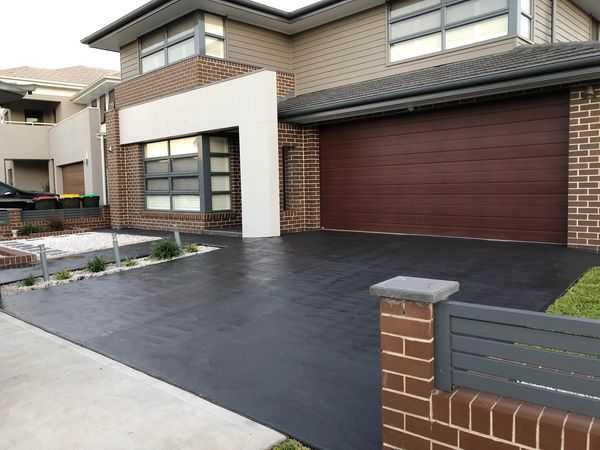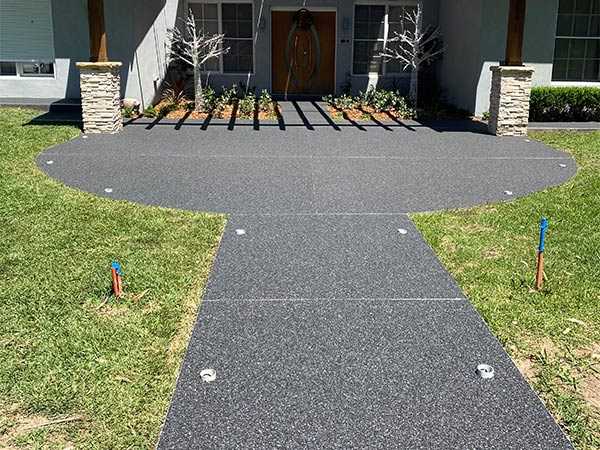 Complete Concrete Resurfacing Solutions in Sydney
Concrete resurfacing is a budget-friendly method of converting the outworn and tired slab or path. At DCR PRO CONCRETE RESURFACING, we have vast experience in the industry and so we have always been setting high standards in terms of performance, affordability, and aesthetics. We provide excellent craftsmanship for concrete driveway resurfacing work for different industrial, commercial, and residential use.
We value our customers
We value our customers, and we also assure them they can always trust our team's skill and experience. Therefore, we are a name to be reckoned with for concrete driveway restoration work. Our team always uses the newest techniques and tools to do the concrete resurfacing of the driveway. Therefore, we are known for providing long-term and efficient solutions every time.
There are several reasons our clients may come to us. In most cases, they need concrete driveway resurfacing because their home paved surfaces get worn and damaged due to the constant pressure of vehicles. In these cases, the surface layer loses its colour, and this exposes the concrete that lies underneath. This is where our services and affordable concrete driveway resurfacing cost come in.
Our clients can be sure that no one does this work better than us. One of the primary reasons for this quality is that we can provide customers with precisely what they ask for. If they want a custom coloured driveway, we are more than happy to oblige, giving them a complete peace of mind. Our customers are confident that when they hire us, they will get the finest quality and it will be done correctly the first time, every time. We have earned a strong reputation as the top name for driveway restoration services.
Furthermore, we also offer the best concrete driveway resurfacing cost in the region. The project's size does not matter, because we are adept at working with all types of projects – big or small. We use the best coloured resurfacing products for our work, a major reason for our popularity.
How can we help our clients?
Whenever people get a home built, they normally get concrete driveways as part of the contract for building the structure. However, in most cases, these surfaces are made from substandard materials, and they are quite costly. This is where our concrete driveway restoration can solve this poor workmanship. Instead of waiting until your home builder chooses a contractor to do poor work, we always suggest that prospective home builders choose us directly to create their driveways, crossovers and pathways. We can use a coloured concrete sprayed driveway to give an attractive and durable surface which is easy to maintain.
Concrete resurfacing and us
Being one of the industry leaders in concrete resurfacing in Sydney, we believe that the right type of concrete surface preparation reduces the turnaround time, eliminates dust, and ensures a high-quality finish while reducing the scope of coating failure. Therefore, we always use the latest equipment for floor preparation. On top of that, we have a team of friendly and professional flooring contractors in our company, who are experts in converting the dull concrete surfaces into unique, colourful pieces that will impress you.
The best part of the concrete resurfacing in Sydney service that we offer is that it is aimed to accommodate the specific needs, preferences, and budget of every client. This is why we collect information from our clients and then prepare an appealing design for them. With our knack for perfection and eye for detail, you can trust us to get the best outcome.
How are we different?
The resurfaced flooring that we offer comes with higher quality, better finish, and endless choices in shades and patterns.
Through our concrete resurfacing in Sydney service, we can help you to refresh the condition and appearance of even the oldest concrete flooring. So, by choosing us, you can give your flooring a better look and feel and long life.
We are well known for offering trustworthy and reputable concreting services within an affordable rate in and around Sydney. Our highly experienced team members help in many aspects. All these things also help us to secure businesses constantly from existing and new clients.
Does concrete driveway resurfacing last for years?
Concrete driveway resurfacing can last for many years. However, it has to be appropriately applied, and it also needs to be protected with a sealer. In that case, it will stay in good shape even if there is a lot of foot and vehicular traffic. However, our clients also need to undertake regular maintenance. They need to get it done at regular intervals once the initial work has been done. They will also have to reapply the sealer as and when necessary. Doing all this will make sure that the surface will stay looking new for years to come.
Can you resurface a concrete driveway?
Yes, we can resurface concrete driveways. Under ideal circumstances, such surfaces should last a lifetime. However, there are a few factors that can reduce their lifespan. They can also lead to racks, settling, discolouration, and scaling, making the surface look unsightly. The commonest reason is often poorly compacted substrates, harsh weather, using an insufficient concrete mix, and poor workmanship. Our clients can save concrete driveway resurfacing costs by repairing the driveway rather than replacing it. In many cases it is not necessary to completely over and rip out the existing concrete.
How much does concrete driveway resurfacing cost?
The cost of concrete driveway resurfacing will depend on several factors. In most cases, the variation depends on the finishes they want. Usually decorative and designer finishes cost more money. It is common knowledge that a plain driveway will cost significantly less than one where the finish is elaborate. With concrete, it is the ideal option for people who want a pavement or stone-like look on such surfaces. There are so many options that our clients can choose. This means that they can get a unique finish that improves their property's kerbside appeal if they want.
Can a concrete driveway be resurfaced?
Yes, a concrete driveway can be resurfaced. It is always better to get such work done by experts in concrete driveway resurfacing, like us. However, it is very important that clients are responsible for the ongoing longevity of the concrete surfaces. In case our clients are unsure about how to properly lay and maintain a structurally sound driveway, make time to talk to a professional concrete company like DCR PRO CONCRETE RESURFACING. We will visit the property, assess the surface, and make the repair job recommendations.
Does the driveway sealer come in various colours?
Yes, a coloured driveway sealer is common these days. There are plenty of options that our clients can choose. The most popular options are natural beige, brick red, and Dover grey. We always recommend our clients to use lighter colours because they reduce the temperature of the concrete surfaces. This is good for the health of the surface in question. These products can be quickly applied and provide good performance in all conditions. They play a major role in protecting these entrances and parking spaces in our clients' homes.
What is the best sealer for coloured concrete?
For a coloured driveway sealer, the best option that you have is a water-based concrete stain. Although acid stains are a more conventional and popular choice, they do not offer you a lot of colours. Most of those are neutral colours. Concrete stains come in a variety of hues and shades such as blues, reds, and yellows, to name a few. One can also mix them and create an incredible fusion that contains all kinds of colours on the spectrum.
Can I seal old concrete?
Yes, old concrete can be sealed. One of the best products in this vein is a coloured driveway sealer.A driveway can always be resealed following proper sealing treatment. Therefore, before attempting such a project, it is important to make sure that the surface in question has been sealed earlier. In case a sealer has been used previously, it needs to be removed through means such as grinding or acid etching. However if a previous sealer is compatible, there is no need to go to all that fuss.
How do you restore a concrete driveway?
Several steps have to be followed for concrete driveway restoration. The old surface will need to be rigorously cleaned for starters to ensure that there are no issues with the adhesion of the new surface. This stage includes using a high strength pressure washer to remove all the dirt, grease, oil, and remnants of the old concrete surface. After that, any imperfections that can be repaired will be tied up the best we can(not all damage can be fixed). Once the preparation is done we apply the concrete resurfacing product for the decorative finish you desire. Our last step for your spray pave is to use 2 coats of clear sealer to protect the spray just applied.
What is the average cost for concrete driveway restoration?
The average cost of concrete driveway restoration depends on several factors. The first important factor, in this case, is the finish that our clients want. If they want a simple finish, they will not have to spend a lot. However, if they are looking for decorative finishes, the project cost will increase. There are several benefits of getting such resurfacing work done on the concrete driveways. It gives a new lease of life to the surface and helps with it not to be slippery. It also costs a lot less than installing a new slab. It is always better to get such work done by professionals like us.