Best Slip Resistant Products For Outdoor Concrete Surfaces
Best Slip Resistant Products For Outdoor Concrete Surfaces
Our Specialised Resurfacing System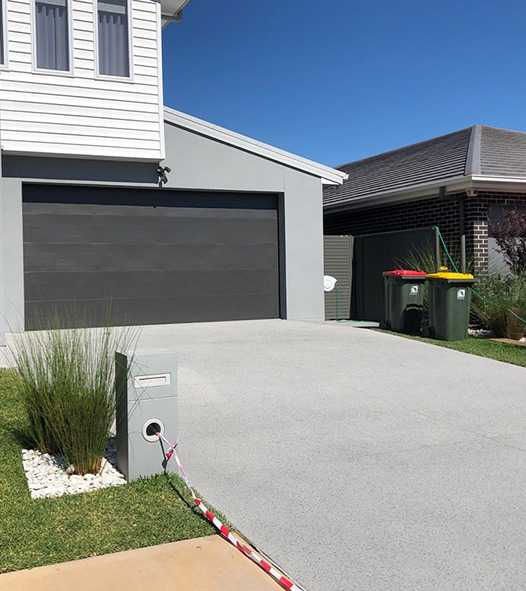 Complete Concrete Resurfacing Solutions
The Best Way To Transform Your Existing Concrete Surfaces
Concrete is a highly durable substance that can easily withstand foot traffic, difference in weather, extreme heat like fire, and automotive traffic. But it is not a miracle material that will stand up to every type of wear and tear indefinitely. Therefore, a concrete floor will start to deteriorate over time without proper care, and cracks start to form. As a result, the concrete surface starts showing stains. When these things happen, the concrete surface doesn't look good anymore and, in these cases, only the concrete resurfacing service offered by DCR PRO CONCRETE RESURFACING Sydney can help.
We Pay Close Attention to Detail
Outdoor retreats are the perfect way to create an extension of your alfresco living area, creating ambience and a relaxed atmosphere.
We can help you achieve your outdoor space with products that are durable, low maintenance & on-trend.
Personalised Colours & Custom Designs Available
We don't like to admit it, but first impressions do count. Custom designed can ensure your driveway, entranceway and landscape design get your neighbours talking - in a good way!

can be used on any surface or location.

far less expensive than stone or tile products.

only a sweep, hose & seal required!

the products used in concrete are in abundance, and you only mix what you need so there's no wastage.

creates the same look as expensive tiles or stone.
We strive to be in constant communication with our customers until the job is done. To get a free quote, or if you have questions or special requests, just drop us a line. We look forward to serving you!
Top Quality Concrete Driveway Resurfacing in Penrith
At DCR Pro Concrete Resurfacing we are regarded as the top name for concrete resurfacing in Penrith.
What is concrete resurfacing?
This means that a new layer of spray on concrete is applied over an existing one. However, there is more to such work than merely adding a new layer.
The first step in such work
If our clients want to make concrete resurfacing decorative then the first step that needs to be taken is to clean the dirty surface and do any minor repair to gaps and fissures. Once done, the surface is primed ready to be resurfaced.
What do we do?
We use a wide range of techniques to get the results that our clients want to achieve.
Spray coloured Concrete over old concrete
Use the best products for concrete resurfacing
Resurface old tired concrete
We are the most reliable resurfacers in the region
This is the major reason people always call us for driveway resurfacing work over here. We have been working in the region for several years now, and in all this time we have built a great reputation for ourselves. Our clients know that when they call us for such work, they will get nothing but the best value for the money that they have paid us.
The biggest benefits of concrete resurfacing
Instant house appeal
available in unique colours, designs, and patterns
increase the total value of a property
How can we help you?
We can assure the clients we are here to help them to the best of our abilities. They can always get in touch with our team as is convenient for them and book appointments for their property. We will also provide them with the most beautiful and reasonable options for their project.
Diverse array of services
We offer our clients a wide range of services to choose from, such as:
Top surface grinding to remove old paint or spray pave
High end decorative finishes
Customer designs
We are immensely proud of the quality of work that we have provided to our clients for years. Our workmanship is superior to those of our competitors in the region. Despite our affordable services, we always make sure that we provide the maximum attention to even minute details.
Can you spray new concrete over old concrete?
Yes, we can because this is part of the concrete resurfacing in Penrith services that we provide. Maybe our clients want a new stencilled concrete patio, but they already have a plain grey patio at their home. They may wonder if the contractor will have to tear up the old one before they can install the new one. They need to keep in mind that the contractor may have to do so, or perhaps they do not. Companies like us that do the work properly should have no issues in applying spray on concrete over your existing slab. However, a few things that the contractor has to keep in mind while doing so for best results.
What is the best concrete resurfacing product?
The best concrete resurfacing product can fill up pits and holes that are as deep as 1/4th of an inch. If we are doing concrete resurfacing in Penrith, we will use products that work the best for such purposes. It also helps that they can be tinted in an array of colours. The time and product needed for such work depend on the size of the patio that needs to be covered. Normally, it takes around 48 hours to restore a medium-size patio.
What is the best way to repair cracks in a concrete driveway?
The best way in which our clients can repair the cracks in their concrete driveways is by calling a specialist in concrete resurfacing in Penrith. Concrete is a surface that has durability as one of its properties. However, they become worse for wear with age and start developing cracks over time. In some cases, soil movement and tree roots can also damage concrete driveways. When our clients call us they do not have to spend money on getting new slabs by removing the old ones. We can usually repair the old surface and then apply a new surface to it.
What is the best concrete crack filler?
The best concrete crack fillers for concrete resurfacing in Penrith are those that do not contain any gravel. Sand mixes are also used by professionals where the area that needs repairs is not too deep or large. In the case of deep and large areas, standard concrete mixes that contain gravel are the best options.