Pebble Paving Western Sydney
DCR Pro Concrete Resurfacing – The best pebble paving in Western Sydney
There are several reasons we at DCR Pro Concrete Resurfacing are the number one choice for pebble work in the region. They may be enumerated as below:
Our rocks are kiln dried and specially selected.
Our surfaces are incredibly strong and completely permeable.
The resin that we use is exceptionally durable.
Our surfaces prevent the formation of puddles by draining water freely.
Our surfaces last long
Our surfaces make the paved areas a lot safer.
We lay these surfaces properly so that water can flow through easily.
Our surfaces reduce the amount of surface water that gets channelled to the stormwater drains.
We use a permeable concrete base that is fully reinforced and free draining.
What work do we do?
We specialise in installing permeable concrete driveways for the following surfaces:
new units
subdivisions
townhouses
We also work in complete accordance with the rules and regulations of the local councils as far as permeability is concerned. So, if our clients are looking for a company that can offer permeable concrete, permeable pavers, and porous paving services, they should come to us. We are the masters of pebble paving in Western Sydney, and there can be no doubt about that. We always do our best for our clients.
We strive to be in constant communication with our customers until the job is done. To get a free quote, or if you have questions or special requests, just drop us a line. We look forward to serving you!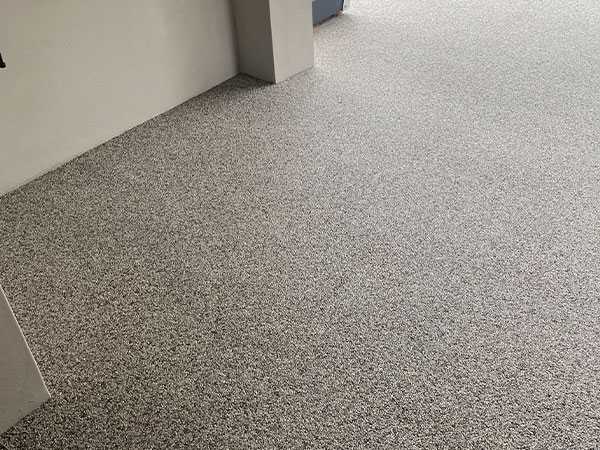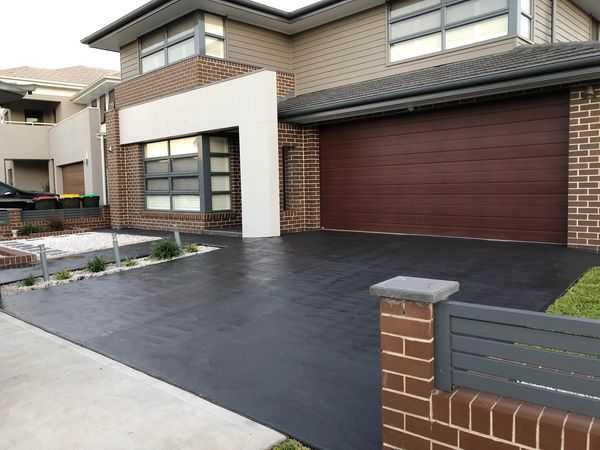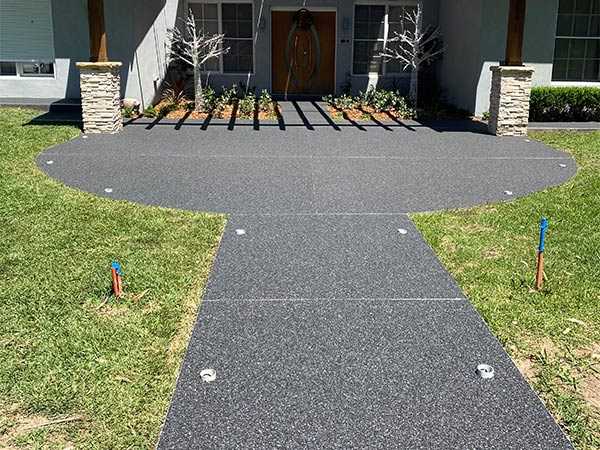 We are the leading professionals for concrete resurfacing in the region

We know how the outdoor areas in our clients' properties are subjected to continuous wear and tear throughout the years. This means that after some time they must be maintained, failing which they have to be replaced completely. This is where our pebble paving services in Western Sydney could be what the doctor ordered for our clients. There is always a pressing need to make sure that one's property always looks aesthetically pleasing. A full replacement is always an expensive option, though.
If they already have an existing surface that is solid enough, we can work on that foundation and thus improve the look and feel of the entire area.
What is pebble paving?
Pebble paving can be defined as an aggregate surface that is bound by using resin. A lot of our clients in Western Sydney opt for such work in their properties. A major reason for this is the smooth finish that we offer them in these cases using equipment like trowels. It also helps that we offer our clients the strongest and most durable products that come with the highest resistance to UV (ultraviolet) rays.
We are the leading resin-bound paving applicators in the region.
This is where we can come in so much. We have the right tools for all the projects we work on. We are proud of our standing in the industry. We would also like to state that we have clients from all strata in the area, such as DIY (do it yourself) enthusiasts and professional contractors. Therefore, our clients can be sure that no matter what kind of pebble paving work they are looking to get done in their Western Sydney property, we are the best people to do such work for them.
Is pebble paving slippery?
There are certain situations where pebble paving in Western Sydney can be slippery. If the surface is a brand new one, it may be slippery. The same also applies where the paving is sloped, or if it has rained recently on the same. This is because urathine, which encapsulates all the pebbles, is a lot like glass. However, if our clients are worried about slippage, we can always mitigate the problem by spreading fine silica on the surface. We would do so on the finish before we cure the same. This would provide one the slip-resistant finish one is looking for. It is hard to see such sand when one is walking on the surface. However, when one walks on it, it may feel a tad bit like walking on a beach.
Will pebble paving stains over the years?
Under normal circumstances, pebble paving in Western Sydney should not stain. However, there are some situations where this could become a reality. This is especially true when one leaves flower pots made of iron or steel that have caught rust for years. The same thing is also applicable when the likes of nails and chains are left on the same for a similar period. Rust is among the stains that can be hard to remove from such a surface. If the surface is subjected to many years of consistent fertilising and watering one would get deposits of hard water minerals on the same.
How do I generally clean pebble paving?
In most cases, pebble paving in Western Sydney does not need a lot for it to be cleaned and maintained. Therefore, people who have such surfaces in their properties do not do a lot. We always suggest to our clients they rinse the surface in case it is located close to garden run-off or is dusty. However, they need to keep in mind that a lot of water is needed for such an activity. So, that needs to be considered. Our clients can easily use high-pressure equipment for such work as the surface would not be damaged by the same.
What is the worst thing that can happen to pebble paving?
The worst that could happen to pebble paving in Western Sydney is a crack. If it is maintained properly it would never dissolve, break up, blow up, blow away, or gum up. If the ground underneath the surface moves, it can heave the concrete that the paving is attached to. This may lead to the surface getting cracked.